Differentiated instruction is a way of thinking about the diversity of the learners in our classrooms and acting on this knowledge throughout the process of planning, implementing, and evaluating so that we can promote the deepest possible understanding for all students.
Wixie can help you better differentiate your instruction by helping you:
know your students as individuals and learners,

deliver quick formative assessments to evaluate current understanding, and

provide a tool you can use to differentiate student learning tasks.
Use Wixie to know your students as individuals and as learners
One of the most common beginning of the year activities in any classroom is an All About Me project. From wanted posters to trading cards, Wixie includes many single and multi-page All About Me templates you can use to get to know your students.
You can assign an All About Me activity to students or have them start these independenly from their student Templates library. You can also have students complete the Level 1 tutorial in the Wixie Training tab to create and print an All About Me table tent.
As you decide exactly what you want students to share about their personal lives, you might edit your All About Me Wixie activity so that it tells you more about a student's:
• culture (family, language, religion)
• interests (hobbies, sports, experiences)
You could ask them to choose between contrasting options. For example, do students like to:
• Work alone or together
• be creative or analytical
• do open-ended projects or tasks with structure

If an All About Me template is too structured or teacher driven, it can gloss over important personality traits that really help you connect with your students. Have students use a cluster organizer to highlight important things you should know about them, as individual people AND as learners.

This approach to an All About Me project can help students reflect on themselves not just as people, but as learners.
Use Wixie for formative assessments
One of the hallmarks of a differentiated classroom is continuous formative assessments, or assessments for learning. These are short check-ins that help both students and teachers determine where students are in relation to a learning target or goal.
Wixie includes a library of activities teachers can assign for formative assessment purposes. In a primary classroom, these might be drag-and-drop activities that evaluate understanding of number of syllables, base ten, or value of money. In an elementary classroom, these might be activities on fractions or contractions, or symmetry that help you evaluate prior knowledge.
You can assign these to an entire class a couple of days or a week before tackling a specific learning goal. Then, after school or at home, you can log in to Wixie to view student work to evaluate their knowledge for the purposes of grouping.
Use Wixie to differentiate student learning by content, process, and product
Knowing where students are, combined with the knowledge a teacher has about them as a learner and an individual, helps a teacher differentiate by content, process, and product.
Many classrooms employing a differentiated approach use flexible grouping; beginning instruction as a whole class, but then having students practice, refine, and develop their learning on the topic individually, in pairs, or in small groups. These groupings change for each topic depending on student topic knowledge, interest-level, preferred learning environment, and/or your goals for their learning.
Wixie not only lets you assign existing activities to your entire class, it lets you customize, create, and assign leveled activities you have differentiated by content, process, and/or product. You can then choose which of the leveled activities you want to be assigned to each small group, or student, in your class.
Go to the Activities tab, find the activity (customized or not) you want to use, and click the "Assign this project" link to assign it to specific students in your class. You can use this same process for personalized learning.


Using station rotations is a great way to facilitate student work in small groups. Station rotations not only provide a structured opportunity for students to practice and explore content in different ways, it provides you with an additional opportunity for customized instruction as groups of students rotate through your teacher station.
Wixie also includes an assessment system you can use to add rubrics and checklists to more comprehensive project work. While these aren't needed for short formative assessments, they can be helpful guides for students as they work to complete performance tasks independently.
Go to the Assessments tab, find or create a rubric or checklist and connect it to a specific leveled assignment.


Use choice and tic-tac-toe-style options for Wixie project work
To take a student-centered approach to differentiation, make sure to give your learners responsibility for choosing how they might differentiate the process and product. This could be as simple as letting them choose if they will work individually or in small teams. You might also have them participate in team formation, as long as a they can justify their choice from a learning viewpoint.
You can also work choice into many of their Wixie tasks or products. If you have chosen a specific product, like a presentation, as a task for a group, they don't all have to do exactly the same thing. Distribute a printed grid of options and ask them to choose any 3 options for their project, or add it as a page in their digital Wixie assignment.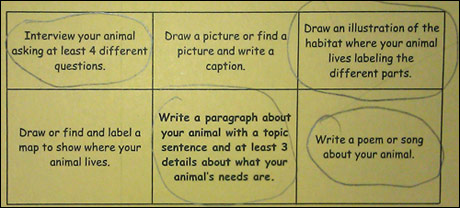 You could also use choice boards to help differentiate the Wixie projects students complete to demonstrate their learning. Using choice boards for tasks you do on a repetitive basis in your classroom frees up instructional time, so you can do more face-to-face coaching with individuals or small groups.
Getting started differentiating with Wixie
Choose an upcoming learning objective you have for your students. Assuming you already know your students as individuals and learners, search the Curriculum Library at the Activities tab and assign it (or customize and assign it) for formative assessment purposes.
Evaluate student work on this assignment and begin thinking about how you might choose to group students for this objective. Do some of them already know the content and need to be pushed further? Do others need to revisit previous foundational knowledge before they can have success?
Develop leveled activities in Wixie for each of the groups you have formed. These activities might differ by the content in them, or even the product students produce. For example, if you want to differentiate between struggling writers and already gifted authors, the struggling writers could share content understanding by creating a postcard with a small amount of text, whereas you might ask your gifted writers to create an entire eBook of information.
Using Wixie with your students can help you use a range of approaches to help them meet classroom goals and engage with powerful learning experiences that are connected and appropriate to the unique and varied learners that they are.