Creative learning tools like Wixie increase student engagement in learning both inside and outside the classroom. As students create to learn, they build 21st century literacy skills and strong critical thinking skills. But you already know this if you are using software like Pixie!
Here are ten key reasons to migrate from Pixie to Wixie:
1. Wixie is cloud-based.
As an online tool, Wixie reduces the need to install software on laptop and desktop computers. Student access is provided via log-in. Students and teachers can access Wixie wherever they have a connection to the Internet.
2. Wixie works across devices.
Wixie works through a browser on Chromebooks, Windows, and Macintosh computers. It works through an app if you have iPads, Android tablets, or Kindle Fire HDs. There is no charge to download these apps to access your Wixie subscription.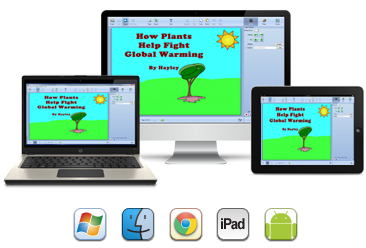 3. Wixie updates are immediate.
The Tech4Learning development team is constantly working to make Wixie better. When we release an update to Wixie, it is available immediately and these automatic updates are included in the annual subscription pricing.
You can find out about new features and options by subscribing to the Wixie News blog.
4. Students are not limited to one device.
Because Wixie works in the cloud, students can access their work regardless of the device they are using. No worrying about having a specific device or accessing files on a server. Plus, students can access after school hours from home or wherever they have a supported device and Internet connection.
5. Teachers can view student work whenever and wherever.
Teachers can review, comment on, and assess student work through their portal. No need to collect files or log-in to individual student accounts.
6. Wixie includes over one thousand standards-aligned curriculum activities
Wixie provides both curriculum activities and open-ended authoring tools. Activities are available in a range of subject areas and grade levels. Teachers can find activities by browsing subject area folders or searching by keyword or even by standards such as Common Core, VA SOLs, and TEKS.
To differentiate instruction, teachers can customize activities and assign them to specific students. Activities can be aligned to the district curriculum and stored in a district level folder for access by all teachers!
7. Wixie tracks student progress toward standards mastery.
Teachers can track student progress against CCSS standards through completion of Wixie activities and results can be exported and viewed within the teacher portal.
8. Wixie makes it easy to share student work with family and community.
Wixie projects each have a unique URL so they can easily be shared with parents and the community, extending the home-school connection. You can also embed Wixie projects in blogs and web pages and even print to share with families who don't have devices or Internet connectivity.
9. Student work is archived year to year.
When students move grades, their work comes with them. If a student moves to a new school in the district, their Wixie work moves with them too.
Wixie also includes a digital portfolio option where students can share work that demonstrates growth. Great for student-led conferences too!
10. Tech4Learning staff is there with free support to get started.
Tech4Learning provides no charge support for getting up and running with Wixie. In addition to our free online implementation resources, our implementation specialists are there to provide support.
Wixie can be provisioned through: Clever, Engrade, Gaggle, Canvas, LDAP, CSV upload, or manually. Users can be authenticated with username/passwords, LDAP, LTI, SAML or via a provider such as Clever, Google, Engrade, or Gaggle. Administrative reports can be viewed and exported.