#wixechat Thursday, March 3rd, 7pm ET
If you already a Wixie user, or just thinking about becoming one, join the upcoming #wixiechat! Maryland educators and Wixie power users Carrie Trudden (@truddentech) and Laura Hook (@lbhooktech) will be leading this chat on Using Wixie to Connect to Home and Families.
Wixie lets students share their knowledge and ideas through text, images, and voice recording. I like to think of Wixie as a digital canvas for students in K-8 classrooms.
Join the #wixiechat to see how other educators are using Wixie to connect school to home.
Questions for the March 3rd #wixiechat
How do introduce Wixie to your parent community and begin to build parent partnerships?

How do you empower parents to use Wixie at home with their children?

How do you reach out to non-English speaking families?

What are some of the ways that you share Wixie projects digitally with family and community members?

How do you have students use Wixie to showcase their work in the broader digital community?
Use these questions to prepare your tweets in advance! Don't forget to include the #wixiechat hashtag.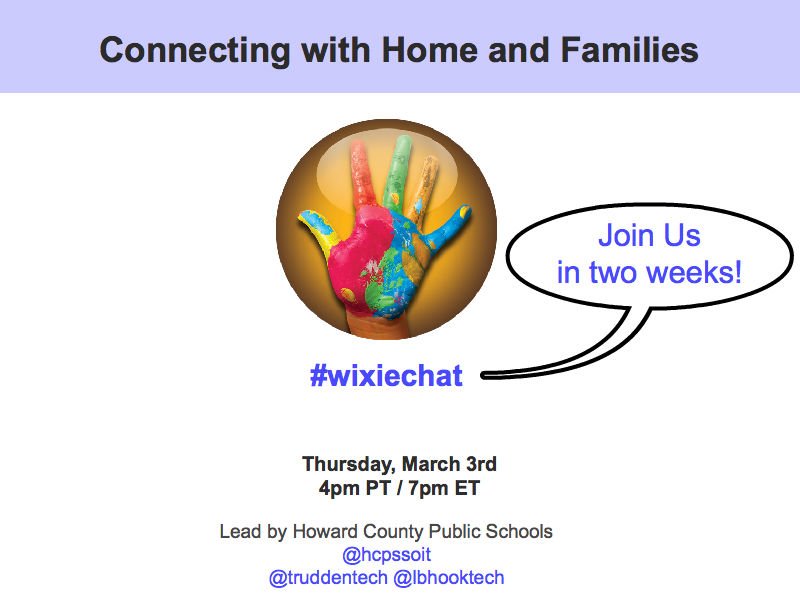 If you link to student work, be sure it isn't password protected and that you have student/parent permission to share.
See you there!
View the collected tweets from this #wixiechat!
Don't miss the next #wixiechat on March 17th @ 7pm ET We will be chatting about using Wixie to build 21st centure skills.