Technology is an integral part of almost every aspect of life today. While reading will always be an essential skill, a digital approach makes sense with today's mix of in-class, at-home, and hybrid learning.
Digital project work can help you connect learners to the books they read, better evaluate their comprehension, and build essential literacy skills like vocabulary, research, and fluency. Here are 5 reasons why integrating technology makes sense for your reading program.
1. Digital learners need to be engaged
According to surveys by Common Sense Media, children today spend an average of 3-9 hours in front of a screen every day. While some of that may be using an eReader, much of it is playing games and consuming video. Today's students expect to use technology, but that doesn't have to mean rote practice or simply consuming media.


Make comprehension work engaging by asking students to practice reading and writing in real-world situations. Technology helps by providing powerful tools, like Wixie, that make it easy to create products like those they see in the world around them. Technology also makes it easy to share work with an audience beyond the classroom. Whether they are creating eBooks, comics, or public service announcements, when someone beyond their teacher views their work, students are motivated!
2. Technology can make informational text as exciting as fiction
Creativity is one of the hardest of the 4Cs to teach, yet innovation is essential to the modern economy. While reading fiction exposes students to an author's creativity, many educators find it harder to work creativity into informational text projects. Push your students to combine the knowledge they are learning with both analytical and creative thinking by changing the product or performance they create as a response to the information they are reading.


3. Technology is especially helpful in supporting English Language Learners
To build fluency in a second language, students must develop skills in listening, reading, writing, and speaking. Language acquisition expert Stephen Krashen suggests that true acquisition is, "an unconscious process when language is used for real communication purposes." We can encourage this process by giving students meaningful and authentic opportunities to both listen and produce language. Technology helps by making it easy to edit written work, engage with ideas and content in multiple modalities, and practice oral fluency without stress as they record, listen, and rerecord.


4. Standards demand it
New learning standards embed the need to conduct research and to produce and consume media into every aspect of today's curriculum! Standards also share the responsibility for teaching literacy with all disciplines, technology and media literacy should be a seamless part of language arts instruction. The themes, literature, and informational text in your reading program make it easy to connect reading to making.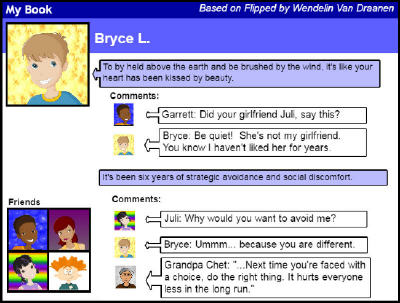 5. Helps you bridge in-class and at-home learning
Many sites have already taken advantage of online tools so student can more easily move from an in-class to an remote learning environment. When students are already familiar learning in a digital approach in-class, the transition to home learning is seamless. Digital tools like Wixie can be used across devices and anywhere students have an Internet connection.
Today's creative digital tools don't need to distract students from reading and can help engage your learners more deeply in the literature and informational texts they are reading.
It's easy to get started
You don't have to come up with instruction that combines reading and technology on your own. You can download these guides for unit-specific technology project ideas for grades 1-6 themes like weather, animals, heroes, community, journeys, and discovery.
The projects in these guides help students express their ideas about what they are reading, and share their knowledge and thinking in creative and powerful ways.