This blog shares fifty ideas for using Wixie for fun back-to-school activities. From all about me projects to goal setting and managing your classroom, use these ideas to get to know your learners and get them creating and communicating with technology from day one.
Select the image for each idea or use the text link to open a template you can assign as a teacher, or use as a student, immediately.
Editor's Note: We did a webinar on this topic and recorded a shortened version, you can watch here.
All About Me
Use these all about me activities to not only get to know your students, but also build essential skills for future digital project work.
1. Create a custom profile image
Have students create a custom profile image to personalize their learning while exploring the paint tools in Wixie. Profile images make it easier for you to visually locate student work in your Wixie account. (template and tutorial)
2. Design a personal shield
Students can get to know the tools and stickers in Wixie while designing a shield about themselves and their family. (template)
After this project, students will have the digital skills necessary to create a coat of arms for a character in a story they are reading. (lesson plan)
3. Jump in the Wixie photobooth
Assign the Photobooth template in Wixie to have students capture their image and add props that tell you about their interests and passions. (template)
4. Create a comic
Comics are a fun and easy way to get students to share information about themselves. (template)
5. Write a book about yourself
Students can use this multi-page book template to share information about themselves, their family, and things they are good at. (template)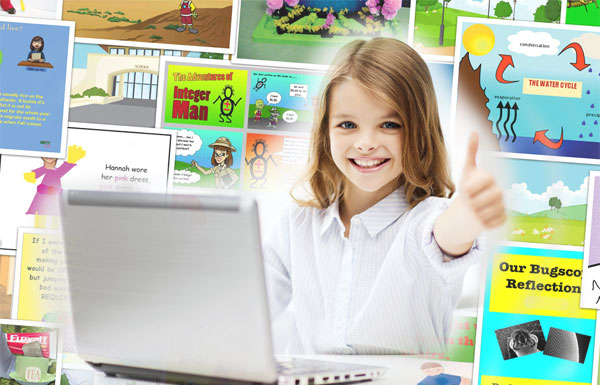 Try these ideas with Wixie
Give these activities a try with your students for free for 90 days.
Get started for free
6. Video ID Card
Students can use the Student Identity Card template to share their unique features and interests. (template)
(click the very tiny play button on the lower left of the video to watch it)
7. Write a bio poem
Kick off the year with poetry and get to know your students by assigning the Bio Poem template to guide how they share information about themselves. (template)
8. Design your own WANTED poster
Students can tap into their creativity to share unique features, identifying habits, and people they hang out with in a fun wanted poster. (template)
Creating Wanted posters requires thinking more than digital skills. Explore more ideas for using Wanted Posters to inspire student comprehension, vocabulary, and more.
9. Create an Arcimboldo-inspired self-portrait
Giuseppe Arcimboldo is an Italian Renaissance painter known for his portraits of people that use objects like fruit and books. Challenge students to create Arcimboldo-style self-portraits by combining clip art images in Wixie. (template)

Explore an Arcimboldo-Style Self-Portrait lesson plan
You can also tie this project to writing by asking students to describe themselves, or a friend, using similes. Then, use the objects in these similes to create the self-portrait.
10. Create a teacher information card to share with student's families
Create a high-quality example as well as help students and their families get to know you better at the beginning of the year. (template)
Summer Memories
Change up the focus from all about me to summer fun and memories. Students can still draw on content they know, building the confidence they need to learn new digital communication skills.
11. Banners of fun
Students can create a colorful banner with a headline and images to share about their summer. (template)
12. Design a snow globe
Like the ones they might have picked up on vacation, have students design a snow globe to share their favorite summer scene. Students can then add an opaque overlay sticker to make it look like an authentic snow globe. (template)
Snow globes are a fun way to inspire student storytelling and have students demonstrate knowledge of cultures and habitats (lesson plan).
13. Summer shades
Students can add stickers and drawings on a pair of sunglasses to reflect upon their favorite summer memories. (template)
14. Vacation postcards
Have students share the essence of their vacation time and/or a special trip they took by writing and designing a postcard. (template)
Have students share their learning about a historical time period. Learn more in the Postcards from the Past lesson plan.
15. Favorite summer memory
Students can illustrate and write about their favorite summer memory. (template)
Have each student create a single page and then use the Import Pages feature in Wixie to collect them into a single class book. Share the URL with families, export as a PDF or eBook, or embed on your classroom web site.
16. Summer activities brainstorm
Students can use this colorful graphic organizer to brainstorm all of the fun activities they did over their Summer break. (template)
Creating cluster organizers is a great way to brainstorm ideas for writing as well as capture information on a topic you are studying.
17. Make a memory book
Students can use this multi-page book to share information and images about their favorite Summer memories. (template)
Share the URL or export to PDF or eBook to share with families for a memory they will treasure.
18. Write Magnet Poetry
Kick off the school year with this easy bell-ringer activity that tasks students to share a summer vacation memory using sight words and emojis. (template)
19. Cinquain poetry
It's never too early for poetry. Search the Wixie home page for "cinquain" and have students write cinquain poems to share their summer vacation experience. (template)
20. SUMMER acrostic poems
Have students write and illustrate an acrostic poem to share their experiences over the summer. Search "acrostic" at your Wixie home page or use this template to assign a template to support students. (template)
Picture Book Fun
There are so many great picture books and children's literature connected to back-to-school themes. Use these titles to make students comfortable, get them excited about school, and set the tone for reading and writing the rest of the year.
21. This is the Way We Go to School - Edith Baer
After reading This is the Way We Go To School by Edith Baer, have students write their own rhyming sentences about the different ways they arrive at school. Combine the work together into a class book. (template)


22. Dear Teacher - Amy Husband
Start the school year on a silly note with Dear Teacher by Amy Husband. After reading the story, encourage students to write you a letter to share what they look forward to this year. (template)
23. The Day You Begin - Jacqueline Woodson
Enjoy this beautiful story by Jacqueline Woodson, The Day You Begin. Have students use one of the new book templates to write and illustrate a story about themselves.
To use a Book template, simply go to the New button and choose Book.
24. Pete the Cat: Rocking In My School Shoes - Eric Litwin
Read Pete the Cat: Rocking In My School Shoes by Eric Litwin and have young learners complete a sentence about their favorite school activity, and then color and decorate a pair of shoes reflecting unique personalities for back-to-school. (template)
25. If I Built a School - Chris Van Dusen
After reading If I Built a School by Chris Van Dusen, encourage students to design their dream. What would it include? What classes would they like to see? (template)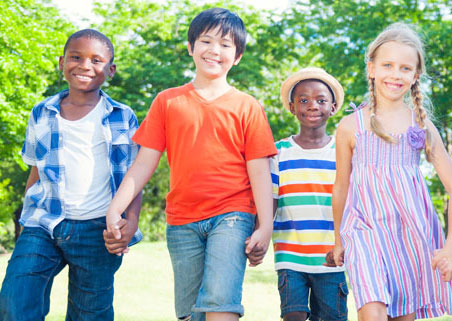 Try these ideas with Wixie
Give these activities a try with your students for free for 90 days.
Get started for free
26. The Name Jar - Yangsook Choi
After reading The Name Jar, by Yangsook Choi, have students type things they are grateful for and add it to their gratitude jar. (template)
27. First Day Jitters - Julie Danneberg
Celebrate back-to-school with First Day Jitters by Julie Danneberg. Then, ask students to reflect how they felt on the first day of school. Students can start with a blank canvas to paint a picture of themselves and then write a sentence sharing their feelings.
28. Our Class is a Family - Shannon Olsen
Ask students to create a poster describing the ways they can contribute to your classroom culture in a positive way after reading Our Class is a Family by Shannon Olsen. (template)
29. Five Creatures - Emily Jenkins
Read Five Creatures by Emily Jenkins and put students in teams to interview each other, collect data on similarities and differences and write their team's version of this fun story. (template)
30. If You Take a Mouse to School - Laura Numeroff
Explore cause and effect by recreating this fun story about a mouse's adventures visiting your school. (template)
Transforming Your Classroom
With Wixie, it's easy to get your classroom ready for back-to-school. From posters, to classroom design, to seating charts and more, your work in Wixie can help inspire and welcome students for a fun year back-at-school.
31. Class Stationery
Use the Wixie design tools to create your own unique classroom stationery. This provides an opportunity to share with students the art of writing thank you notes or letters. The letterhead can also be used to ask for donations for field day or other events.
Browse Templates>Stationery for some inspiration. Then start your own blank page and search for images in the Stickers library.
32. Posters
Use the tools in Wixie to make your classroom colorful and fun. This is a great way to model risk taking, as well as craftsmanship. This is also a great time to show your students that you also know how to use Wixie!
33. Calendar
Create the perfect calendar for you and your students. (template)


34. Classroom Website
Start with this background to make your own classroom page in Wixie. Simply adjust the background to match your needs. Use the Image button to add details. Select each object to add a hyperlink to more information and resources. (template)
35. Certificates
Create customs certificates for your students this year in Wixie. Simply search "certificate" on your Wixie home page to find a variety of options to celebrate your students' achievement. (template)

36. Seating chart
You can use the Wixie Seating Chart template to set up a seating chart for your classroom. Each of the student desks and names are separate items. To rearrange, simply select and move both items. (template)
37. Plan your room
Looking to take it a step further and rearrange your classroom this school year? Start with a blank canvas or use a grid template to design the perfect learning environment for you and your students. (template)
Well THIS is a new way to use Wixie that I hadn't thought of yet! Students wanted to vote on reorganizing the classroom last year---maybe this year I'll evaluate and we'll vote on proposed designs as an activity! Thanks @RitaPhillips85 https://t.co/W3bMEIpg3c

— A_Dorsett_UWAED505-72 (@ADorsettUWA) June 20, 2022
38. Showcase gallery
Use the gallery walk file to showcase high quality student work. Simply add images of the work you would like to share. Select the image and use the hyperlinking option to link to the project. This way, viewers can simply select an image to view the entire project "on display." (template)
39. Book trailers
Get students excited about the books you will be reading this year with a book trailer introductory video. Use one of the various video templates in Wixie's Template library or let your design skills go wild by starting with a blank canvas.
After you have inspired your students, challenge them to create their own book trailers to entice others to read their favorite books. (lesson plan)
40. Student leaders
Encourage students familiar with Wixie to take on a leadership role and become student leaders. Students can provide additional support to students, and perhaps even new teachers, trying to use Wixie for the first time.
Get Students to Take Charge
Wixie is designed with students in mind, providing a tool for them to share their ideas and understanding. Here are ways to empower students to use Wixie for personal goals and jump start their agency, building confidence to take ownership of their learning.
41. Set goals
Have students set academic or personal goals for the school year. Search "goal" in Wixie to find a range of templates; even one to help you set a SMART goal (specific, measurable, attainable, relevant, and timely). (template)
Explore a SMART Goals lesson plan
42. Visualize Success
A vision board is a collage of images, words, and short phrases that help provide students with a tangible idea of what future success looks and feels like. (template)
Use the completed vision boards as a device lock or home screen for a daily reminder and motivator to do the work necessary to achieve their goals.
Explore a Vision Board lesson plan
43. Make your mark
International Dot Day is celebrated in September each year to encourage student creativity. Based on Peter H. Reynold's The DOT, this delightful story is designed to help students "re-discover the power and potential of creativity in all they do." (template)
44. Rights and Responsibilities
Constitution Day is September 14th. This document, along with its amendments, protects the rights of all US citizens. Create a similar document for your class to ensure that everyone has a voice and rights that make them feel safe and comfortable expressing themselves. (template classroom constitution)
Explore a complete Classroom Constitution lesson plan
45. Self-expression and self-regulation
The motions of moving a pen or pencil can have a calming effect, drawing a picture takes just enough brain power to make you forget other things and relax.
Remember the fun scratch art you used to do as a kid? Search "scratch" at your Wixie home page for a range of scratch art activities and simply use the Eraser tool to express yourself and destress. (template)
46. Make a mandala
Have students create their own mandalas to creatively apply elements of color, shape, and balance for self-expression and relaxation. (templates to make or color)
The colors and imagery moves from the outside to the center or goal
Explore a Make a Mandala lesson plan
46. "Carve" your own petroglyph
Petroglyphs are objects carved into rock by prehistoric people. Search "petroglyph" at your Wixie home page to find a template. Assign to students and they can use the Eraser tool to "carve" their own petroglyph image. Use the microphone tool to tell the story of the rock art. (template)
48. Play in teams
Wixie contains games like sudoku, tic-tac-toe, and backgammon students can play with a friend using the Team feature. Working with a friend on a team math project can help students build flexible thinking and confidence in their unique mathematical ability when they see multiple right ways to answer a problem. (templates for parts of a whole and partition challenge)
Activities like Tangram Shape Guess can also help make math practice fun. (template)
49. Build collaboration skills and connect team members
Working on a team isn't always easy. To help students learn to engage with perspectives that might not be the same as their own, assign the Successful Team Behaviors file. In this activity, students they have to rank important team behaviors. all of which could be considered essential. (template)
Once students have done their own ranking, have them work with their teammates who have also ranked choices, to explain, discuss and argue respectfully.
True collaboration isn't working on separate pages of a group project, but discussing ideas and working together on the same content. Start with a simple one-page project like a team poem. (template)
50. Create a Classroom Tour
It can be a little scary to come to a new class with new rules. Once your students have learned and settled into your classroom routine, ask them to apply their knowledge of locations and rules to design a classroom tour for new, or next year's, students.
Get making right away
Kicking off the year with digital project work sets expectations for student thinking and effort and helps underscore the value of effective digital communication.
There are so many great ideas for first classroom projects. Remember if digital tools and skills are new to students, keep content light (such as all about me and summer memories) so you balance cognitive load and don't overwhelm learners with new content and new skills at the same time.
However, as your students gain confidence with Wixie, challenge them with projects that make them think and require their voice, helping them build agency and take responsibility for their own learning.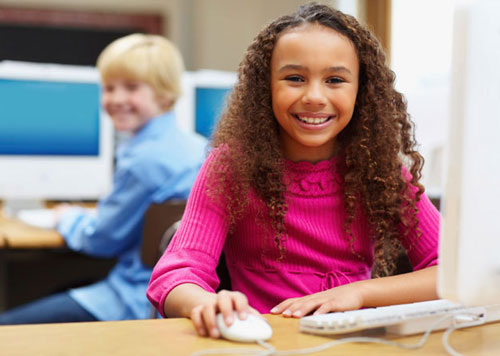 Try these ideas with Wixie
Give these activities a try with your students for free for 90 days.
Get started for free