The beginning of school is always a fun and crazy time. Kids are winding down from summer break (as are you) and schedules and classes are still getting settled. But with all of the business, setting the tone for a year of making is important.
Wixie might be just about the easiest tool for young students to learn! Wixie is open-ended, which means you and your students still have to decide what to do!
Here are eight ideas for first projects to get students using technology, including information about software skills they have to learn to complete them.
Primary Students
Sorting Activities - Click and drag
Whenever you introduce new technology skills, you need to stay light on content. You can't ask students to do the heavy lifting in both areas at the same time. Start with a fun summer-themed activity like building a sandcastle by dragging shapes.
Simply search "castle" at your Wixie home page to assign a sand castle template to students.
You can also use simple sorting activities to evaluate their knowledge and understanding as well as their ability to use a mouse.

The Curriculum folder in Wixie includes a Month-by-Month section with a folder for September that includes fun beginning activities like:

• Pack Your Backpack - template
• Sort the Seasons -

template


• Home or School -

template


• Johnny Appleseed apple sort - template.


Art and self-expression - Paint bucket fill and Eraser tools
Empower your learners to express themselves through art, with templates like Mondrian Coloring or Backpack design. Browse the Curriculum>Art folder to find Coloring and design templates you can use that require only the use of the Paint bucket fill tool.
Students can also use the Eraser tool to "scratch" art onto a page or simulate rock art pictographs and petroglyphs.
Introducing My Family - Paint and add clip art
All About Me projects are a popular way to begin the school year because they also focus on content students already know.
Students and teachers can find an entire folder of ideas in Wixie by accessing their Templates folder and opening the All About Me folder. Getting students to learn how to use the Templates folder on their own to start projects is essential for self-directed learning with Wixie for the rest of the year.
The Wixie Tutorial Collection also includes a tutorial for creating an All About Me table tent. Complete the tutorial yourself to introduce yourself to your students and then have them create their own and print labels for their desks.
Have students share their work to introduce themselves to their classmates.
First Week Greeting Card - Webcam, paint, and type text
After the first week at school, have students design and write (or even record) a short note home about their new class. Students can get started with the greeting card template or from a blank page in Wixie.
If you are using a device with a web cam, go to the Image tab and click the Camera button and capture a picture of your students. You might also try taking their picture in front of a green screen so you can use the magic wand selection tool to remove the background. Have students use the paint tools to decorate the background.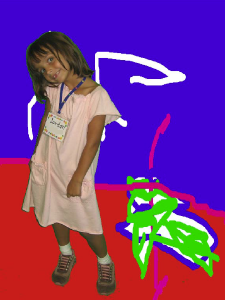 Students can use a brush tool to write a message or add and type their own text. If they aren't ready to write or type on their own, use the microphone tool to record their voice.
You can also send the project URL at the top to family members as an electronic greeting card.
Classroom Rules - Add text and model tools
As you start out the year, have your class work with you to come up with a set of class rules. Work together on an interactive whiteboard to complete a file you can print and hang in your classroom.
Wixie includes a classroom rules template in the Teacher folder you can use to simply type text. You can, of course, always start with a blank page, and add your own clip art and painted details.
Elementary Students
Goals for the year - type text, add clip art, add voice
Before you can achieve your goals, you first need to set them. To get students thinking about the successes they want to have this year, have them create a short list of academic and personal goals.
Wixie includes activity templates to support this and are easy to customize so that each student's page can look unique.
These are great to print and keep in student folders or even taped to their desk. If you are going to publish the goals online, have students click the Record button and recite their goals, further cementing their connection to them.
First Week Newsletter - text and clip art, print or PDF
After students are settled, give them the responsibility of creating a class newsletter to share student learning with parents and families. Giving students responsibility like this helps give them ownership in their learning and is a great way to break down teacher/student barriers and establish your class as a learning community.
Begin a new Wixie project using portrait orientation or open the Newsletter template.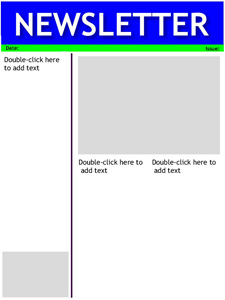 Print the newsletters for students to take home, post a link to the project URL on Wixie, or export it as a PDF and share it on your classroom web page.
Vacation Snapshot - all tools, postcard export
Instead of the traditional, what did you do this summer, have students create a picture postcard from one place (even if it is their home or backyard!). Then, ask them to write to your class as if they were sending you a postcard. Print and deliver the cards or if you are using an online program, post the project URLs on your classroom home page so the class can explore the places students have been.
Search "postcard" to assign the postcard template. You can also create two pages in Wixie and print as a table tent. With a digital tool, you can also create digital postcards that include images and text as well as audio narration and video.
Character Education Comics - all tools, comic export
Many teachers discuss character education issues like bullying right away to start the year off right. If you aren't quite ready to hit this topic, you could also focus on comics as a fun way to discuss effective study habits, similar to a social story!
Comics are a fun way to tell a story and also support Marzano's instructional strategies of non-linguistic representations and summarizing!
Have students create a four- or six-page Wixie project. Then, go to the File menu and Print at postcard (4 to a page) or comic (six to a page) size. You can also search "comic" to have students get started with one of Wixie's many comic panel templates.
Discover your own favorite first project
If you are looking for even more ideas, browse the Templates folder at the teacher or student home page. The General folder includes other fun ideas like SuperHero ID cards, Wanted Posters, timelines, and more!
You can also find fun activities in the lesson plan section on Creative Educator.