Creative online learning tools like Wixie increase student engagement both inside and outside the classroom. As students create to learn, they build 21st-century literacy and critical thinking skills. You already know this if you are using a creative tool like Pixie!
Here are eight key reasons to migrate to Wixie:
1. Wixie works online and across devices.
Students and teachers can simply log in to use Wixie wherever they have an Internet or data connection. Users can access Wixie from Chromebooks, Windows and Macintosh computers, iPads, Android tablets and Smartphones, and even change devices as they are working on projects.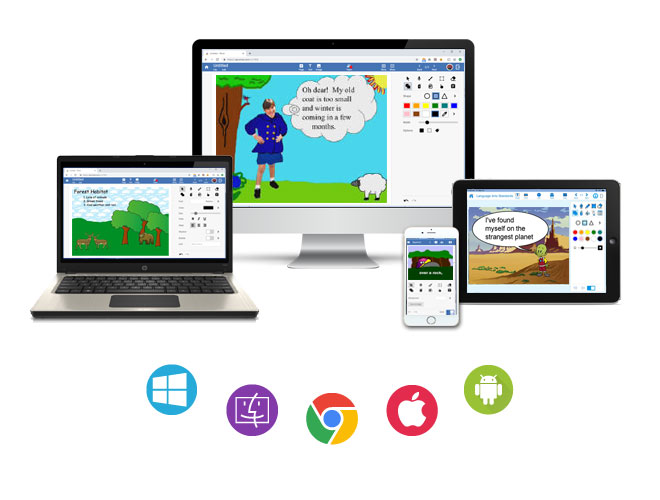 Because Wixie works online, it eliminates the need to install and maintain software. Tech4Learning is constantly working to make Wixie better and when we release updates to Wixie, or new media resources, they are available immediately and included as part of your subscription.
You can find out about new features and options by subscribing to the Wixie News blog.
2. Teachers can view and manage student work anytime, anywhere.
Teachers no longer need to collect student files — they simply log in to their Wixie account to view student projects, provide feedback, and assess student progress.
3. Wixie includes thousands of standards-aligned templates.
Teachers and students can begin work from a blank screen or by accessing templates to guide and support their thinking. Students and teachers can visually browse the Templates folder or search by standard and keyword. Templates range from formative assessments with virtual manipulatives to more open-ended graphic organizers and design templates.
4. You can customize Wixie to meet your specific curriculum needs.
Teachers can differentiate instruction by creating or customizing templates in Wixie. They can assign these templates to meet the needs of specific learners.
If educators develop customized templates specific to their site's curriculum, Wixie makes it easy to share these templates with other teachers through shared school and district folders.
5. Easily share student work with family and community.
Wixie projects are automatically assigned a unique URL, so they can easily be shared with parents and the community. You can also embed Wixie projects in blogs, web pages, and most learning management systems to showcase student work. Wixie even includes a range of print options, so students can publish their work as tangible comics, trading cards, and booklets.
6. Student work in Wixie moves with them.
When students move grades, their work moves with them. Teachers can get to know new students by exploring their work from previous years. If a student changes to a new school within the district, their Wixie work moves with them too.
7. Track student progress toward standards mastery.
Teachers can track student progress against curriculum and technology standards such as ISTE Standards for Students, Common Core, Virginia SOLs and Texas TEKS. The standards grid shows how many projects students have completed for any standard as well as how their work was scored.
Wixie's standards grid also makes it easy for teachers to find additional templates and ideas that help students meet specific learning goals.
8. Free support to help you make the most of your investment.
Tech4Learning provides support at no additional cost to help you get set up and running with Wixie. In addition to our free online implementation resources, our integration specialists will support you as you provision your users and begin using Wixie in the classroom.
Curious about using Wixie with your students?