To make learning during the process visible and to facilitate assessment, project-based learning culminates in a final presentation of learning. Notice I didn't say presentation, but presentation of learning. There is a difference. A big difference.
During the process of PBL, students receive continuous feedback from team mates, their instructor, coaches, mentors, and others involved in the project. Presenting the final product, idea, or any other relevant artifacts created during the process is a great way to celebrate success as well as get feedback. However, for purposes of growth (learning), presentations need to be more than presenting the product or learning artifact.
While there are times the presentation will include sharing information about, a presentation of learning isn't a one-way lecture. In effective presentations of learning, everyone participates - the student presenting their learning, the audience, the facilitator.
Before presentations of learning begin, share questions both presenters and audience members should be prepared to answer. Work to establish norms for sharing feedback.
Remind everyone that effective critiques are:
• free of value judgments.
• specific, personal, and directed at one's work.
• founded on trust from someone respected.
• immediate enough to be useful.
Ideas for the Presenter(s)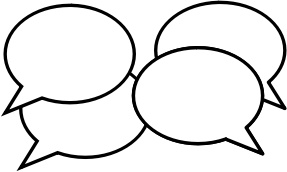 Begin transforming presentations into presentations of learning, by making this distinction to your students. Let them know that you expect their final presentation to be a presentation of their learning through the process, not just the sharing of a product they created.
Presentations of learning should include what students learned about:
• the subject matter content.
• planning, organizing, and implementing a project.
• how they learn.
• how their group functioned.
• how they work in a group.
To promote reflection, you might ask them to also share:
• what they would do differently if they had the opportunity to do this project again.
• what they will do differently when working on the next project.
• what they would change in their product/idea/design if they had more time
(one day, one week, one year)
Ideas for the Audience
The audience should be expected to give feedback on the project content and delivery, as well as share reflections and ideas brought up as students share their learning.
Ask the audience what they learned about:
• the subject matter content.
• effective presentation strategies.
• using technology purposefully.
Ask the audience to share opinions about the product/idea/design.
• What did you think about while viewing the presentation?
• How did the product/idea/design engage you?
• Why did the product/idea/design engage you?
• How might it be revised or even extended?
Instructors/Facilitators
The instructor should share insights on the product, student presentations and reflections, and audience thoughts. They should also highlight issues and events that occured for the presenter during the process to help everyone connect with goals for implementing the project. Ask clarifying and open-ended questions that further group discussion and response.
Listen to critiques and feedback from the students and audience to gain insight into what the students have gained from participating in the project. This will enable instructors to reflect upon key elements they will want to maintain in future projects as well as changes they might make to improve the process next time.
As students present their learning, write common themes, issues, and ideas in a place all everyone can refer to when forming their own reflections and feedback.
Beyond Oral Presentations
Don't settle for making every presentation of learning an oral presentation or multimedia slide show. Students can also share projects through small group discussion, peer-to-peer meetings, or even in a mini-trade show or conference.
You may even want to separate the product presentation from the presentation of learning, since they may have competing goals. For example, if outside experts are judging a product prototype or design, the focus does need to remain on the product and the presentation of learning should take place in a different space.
Integrate Reflection
You can also promote reflection and presentation of learning by asking the students to complete a written self-assessment before presentation. You might ask them to reflect on:
• new content knowledge gained while working on this project.
Can you share something learned that we didn't see in the final product?
• their work done and contributions made to team or project success.
How did you make a difference for your team?
• obstacles and stumbling blocks to success during the project.
How did you solve these? (individually, procedurally, collaboratively)
• their biggest takeaway from the project.
What is one related to content and process or completely new?
It doesn't take major changes to transform a presentation into a presentation of learning. Simply asking for feedback and reflection about the product AND process will help you get there.
Explore a more specific reflection on evaluating student work in PBL in Assessing Student Project Work on Creative Educator.