Wixie makes it easy to capture and record your student's favorite memories. Students can practice retelling as they choose an event from the calendar year or school year to celebrate growth and success.
Have students create individual pages
When students log in to Wixie, have them start a blank page.
They can also open the Templates folder on the left, open the General folder, and select the My Favorite Memory template to begin.
Students can use the paint tools and options to create a picture of their favorite memory. They can also use the recording tool (microphone) to capture the memory orally.
Students can use the Image button to add images from the library.
At this dialog, they can also select Camera to capture their image using their device's web cam (watch video instructions).
Use the Text tool on the toolbar to add and type text about your memory.
To add an element of metacognition to the project, ask students to reflect on the year and share the:

●

most interesting thing they learned.


●

most important personal accomplishment.


●

hardest thing that they accomplished.
Combine student pages into a class book
Using the Project Wizard, ou can combine projects from different students into a single file using the
Select the Students button and choose the class with the work you want to combine. Then, use the Show pull-down menu to filter for the specific student work you want to combine.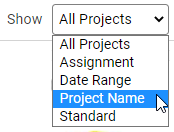 To see the work of all students, select the Entire Class button. Then, select the projects you want to include.
Select the Project Wizard button and choose the option to create a new Project.
The selected projects will be collected in to a single file in your My Projects folder at your Wixie home page.
Click here for step-by-step directions.
Share the memories
Click the Show button on the Wixie toolbar to present student work as slide show at your end-of-the-year party!
Go to the File menu and choose Share for a range of ways you can send the project to student's families and caregivers.
Choose Copy URL or Copy Embed to share the memory book through an email link, your classroom website, or social media.
Celebrate!
No matter how you share, take a moment to read each entry as a class to celebrate your year.