This blog explores an alternative to the traditional Valentine card exchange. Rather than buying, and exchanging, printed and candy-filled Valentines, use Wixie to have students craft a digital Valentine's Day message and then print or exchange electronically.
This lesson was inspired by Melissa Amory of Brookfield Elementary in Fairfax County Public School, Virginia. She shared:
"I moved my usual valentine exchange to Wixie and I'm realizing that this increases equity! All my students got the same project, all of them have the same tools, all of them have had the same opportunities to learn Wixie tricks, they all have the same opportunity to participate."
Here are just a few ways to use Wixie ideas for your Valentine's Day message exchange.
Step 1: Create the Valentines
There are a variety of ways to make Valentines in Wixie. For example, you could assign each student a blank page or a template (such as Decorate a Heart) and have them use the paint tools to decorate and the microphone and text tool to share their message.
The February Month-by-Month folder (in Curriculum) includes an entire folder of Valentine Card templates to help students get started.
Assign a different template to each student, or better yet, teach students how to browse the Curriculum Library independently and open the template they want to complete.
Step 2: Print (if desired)
If you want to print student work so you can distribute physical copies in class, students can go to the File menu and choose Print. Students can take advantage of Wixie's ability to print multiple copies to a single page to make traditionally-sized Valentine's Day cards.
Check the Repeat Pages option at the Print dialog to print multiple copies of a single design to fill the printed page with the number of cards based on the size and layout you choose. Print the number of pages you need to give one to each student. Then, have students cut them out and share with classmates.
Step 3: Collect student work into one file
Printed valentines are a great option, but if your students added voice narration and you would like to share them with friends and family, you will want to take advantage of a digital sharing option. In this case, it is helpful to combine student work into one file to make it easier to share.

From your Wixie teacher account, start a new blank project. Add text and images to create a title, or first, page introducing the project. To add student work, go to the File menu and choose Import Pages. Use the dialog that appears to navigate to a class and add student work into this file.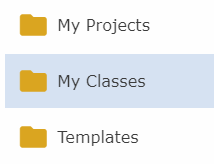 Step 4: Distribute
Once all of the pages are in one project, copy the URL to the project in the address bar to easily paste in an email or social media post.
Go to the File menu and choose Share to find code you can use to embed the collected Valentine's Day messages on your classroom web page.
Go to the File menu and choose Download to export student work as an eBook, PDF, or video.
Then, upload to your classroom web page, a school-sponsored video-sharing site, or attach it to an email.
It's time to get creative!
There are so many directions you can take a project like this!
Jane Marzollo uses a rhyming pattern, "Every bird loves a tree, every flower loves a bee, every lock loves a key, and I love you," in her story Love You, A Rebus Poem. Read her story and challenge your students to choose three rhyming nouns, and write "backwards" love poems.
During the week of Valentine's Day, Kindness Week is commonly celebrated. To promote kindness, ask your students to create compliment cards they can "gift" to others. Wixie's Compliment Cards template has 6 pages, so when you go to the File menu and choose Print, choose the Comic option to print all compliments on one sheet of paper.
Happy Valentine's Day!
With ♥ from the Wixie Team