This blog shares ideas for using Wixie to meet standards and learning goals with third graders, whether they are learning at school or at home. Select the image for each idea or use the text link to open a template you can assign as a teacher or use as a student immediately.
If your child uses Wixie at school, they can log in at home to create and share their learning through a combination of text, images, and voice narration! Your child's teacher may even be suggesting activities by assigning templates that will show at the top of your child's Wixie home page. (If your child doesn't have Wixie, sign up for a free trial account you can use for 90 days.)
Find more ideas, samples, and lessons for third-grade learners at: https://static.wixie.com/edu/third-grade
1. Brainstorm signs of spring
Regardless of the current weather outside on the vernal equinox, what are the signs of spring in your area? Search "spring" or "cluster" at your Wixie home page, add what you see (or even hear, smell, taste, and feel) this spring to each petal. (template)
2. Create your own superhero
Create your own superhero! What powers will they have? How will they help people? Where did they and their powers come from? If you need a bit of direction to get started, search "superhero" in Wixie to find a Superhero ID card. (template)
3. Create an animal alliteration
Create an amazing animal alliteration - a short sentence in the noun–verb–noun format, such as "Birds build bubbles." Use the paint tools in Wixie to illustrate and record your voice to narrate your sentence.
4.

Use emojis to write a story
Emojis started as a time-saving way to communicate emotions without having to type each letter, but have quickly become part of popular culture. Use your student's interest in emojis to encourage creative writing. If needed, provide them with a writing prompt.
Get step-by-step directions for adding emojis to a Wixie project on mobile devices, Chromebooks, as well as new Mac and Windows computers.
5. Homonyms, homophones, and homographs
Homonyms, homophones, and homographs make mastering English difficult, but they are also a fun way to engage students in learning the meaning of different words. Use a combination of imagery and voice recording in Wixie to help students better remember and cement the meaning of these words. (template)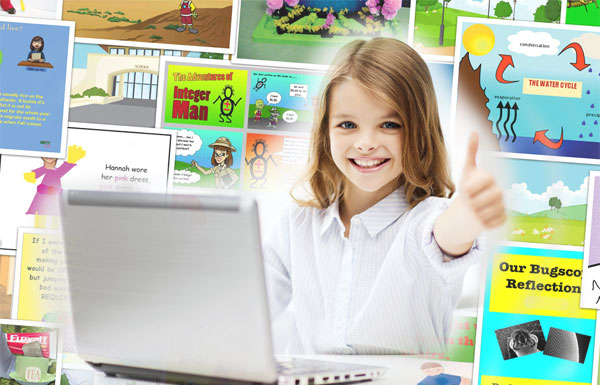 Try these ideas with Wixie
Give these activities a try with your students for free for 90 days.
Get started for free
6. Ideas for staying active
Challenge your students to come up with their own at-home "Way to keep moving" in Wixie. Create a template for trading cards or let them start from a blank page. (template)
Collect students' individual pages into a class Wixie project and share the URL with families to give them ideas.
7. What is this puppy thinking?
Search "pug" at your Wixie home page and open the template. Imagine what it is like to be a puppy. What would make it happy? Type your idea into the pug's thought bubble. (template)
Use the microphone tool to record its thoughts. Be sure to use a puppy voice!
8. Create a trading card for vocabulary words
Have your student create a vocabulary trading card for each new word they learn. Search "vocabulary" at the Wixie home page to find a template to guide work. (template)
If you plan to make more than one card, open the template, go to the Edit menu, and choose Duplicate before you begin each day so you can create an entire set of trading cards! To print multiple Wixie pages onto one sheet of paper, go to the File menu and choose Print. At the Print dialog, select Comic to print six pages to one sheet or Trading card to print nine pages on one sheet.
More ideas for print products you can create with Wixie
9. Create an animal riddle
Create a riddle to challenge other students' knowledge about animals. Choose your favorite animal or learn about one you didn't know about before. (template)
Explore an Animal Riddles lesson plan
10. Create visual arrays
Creating arrays is a great way for students to visualize multiplication and see how it is repeated addition. Students can create their own arrays by adding stickers to a blank page or search "array" at your Wixie home page to find pre-made templates. (template)
You can also do a multiplication or array scavenger hunt to capture images and even write word problems.
11. Write a Haiku
Celebrate student writing by having them write and illustrate a haiku poem – a 17-syllable verse form consisting of three metrical units of 5, 7, and 5 syllables. (template)
Use the New button in Wixie to start a blank page, add text and illustrate! You can also search "haiku" to find a variety of seasonal templates your students can use.
Don't forget the kigo! All haiku should contain a word that indicates the season.
Explore a Harmonious Haiku lesson plan
12. Send a virtual high five
Show your appreciation for others with a virtual high-five. Has a friend connected on a regular basis, did your grandparent send something nice? (template)
Search for "five" at your Wixie home page and add text or voice narration to show you appreciate their being amazing. Use the paint tools and Image options to decorate.
13. Write a letter to or between characters in a story
Taking the perspective of a character in a story can help students understand their motivations and better comprehend their response to events in a story. Assign a stationery template, use the Stationery backgrounds, or have students design their own. (template)
Provide a prompt that connects to the story you are reading to direct their thinking and writing.
14. Work with fractions
Wixie includes templates to help students make sense of fractions, from basic halves and fourths to equivalent fractions and even computation. Search "fractions" at your Wixie home page or browse the Templates folder using the path shown below. (template)
To help students apply their thinking about fractions, encourage them to write fraction stories. Explore a Spring into Fractions lesson plan
15. Fabulous Fables
Students learn about beginning, middle, end, and parts of a story as they write, retell, or adapt a fable.
You can find a full lesson plan for this idea on Creative Educator.
16. Make a map of your room
Combine map making and measurement skills by asking students to design a map of their bedroom or other favorite room in their home. Search "grid" and open or assign the small grid so students can use the squares to show size accurately. Bonus if they include a scale! (grid template)
17. Paint with pointillism
Challenge students to create paintings with pointillism! Use Wixie's paintbrush tool, adjust the size and color, and click the page to make a dot. Change the size of dots and color to form a larger image.
Explore a Paint with Pointillism lesson plan
18. Capture reading fluency
Capture student fluency using the recording tool and Wixie templates with prose and poetry passages for grades K-3.
Log in and search "fluency" or browse Curriculum>Language Arts>Reading>Fluency for passages from Edna St. Vincent Millay (template), Emily Dickinson (template), and More, then customize or create your own to meet your needs.
19. Measure area and perimeter
Area and perimeter are easy math skills to connect to the world beyond the classroom. Log in to Wixie and search "Mini Golf Measurements" or browse Curriculum>Math>Measurement for a multi-page activity that has students use perimeter and area to calculate how much wood and turf are needed for several holes at a new miniature golf course. (template)
In this template, students also design their own hole and calculate the materials needed, and students can simply open a grid template to design their own mini golf course hole as well.
Read more in Wixie and the Real World of Math: Mini Golf Measurements
20. Design a new book cover
Have students create a new cover design for a book they are reading to demonstrate comprehension and explore character, plot, setting, symbolism, and conflict. (template)
Explore a Design a New Book Cover lesson plan.

21. Create a memory book
Have students reflect and compile memories of the school year using the Memory Book Template.
22. Create an Arcimboldo-inspired self-portrait
Giuseppe Arcimboldo is an Italian Renaissance painter known for his portraits of people that use objects like fruit and books. Challenge students to create Arcimboldo-style self-portraits by combining clip art images in Wixie. Browse the Curriculum Library and Art to find a template to support student work. (template)
Explore an Arcimboldo-Style Self-Portrait lesson plan
You can also tie this project to writing by asking students to describe themselves, or a friend, using similes. Then, use the objects in these similes to create the self-portrait.
23. Explore character traits and support with evidence
Have students use Wixie to recall, retell, and share text, images, and voice narration about a character's physical traits, feelings, and actions. Search "trait" or "cluster" for a template. Students can also connect evidence from the text to each trait. (template)
Explore more ideas for using cluster diagrams to organize student thinking
24. Solve a tangram puzzle
A tangram is a Chinese puzzle made from a square cut into seven different shapes, called tans. You use these shapes to make the square, as well as a range of other shapes. Tangram puzzles help students practice visual-spatial awareness and geometric relationships like symmetry, transformations, and composite shapes.
At your Wixie home, search "tangram" to find a range of challenges!
For a creative writing approach, use the Tangram Story file to build your own unique shape and finish the story of the happy square: "There was once a happy square who dreamed of being different, something exciting. But what could that be?" (template)
25. Build vocabulary with word games
Wixie includes a folder of Word Play templates you can use to challenge students to expand vocabulary and see words. For example, how many three-letter words can you find in the word celebrate? How many four-letter words? Many of the Month-by-Month folders also include thematic words for this type of word play. (template)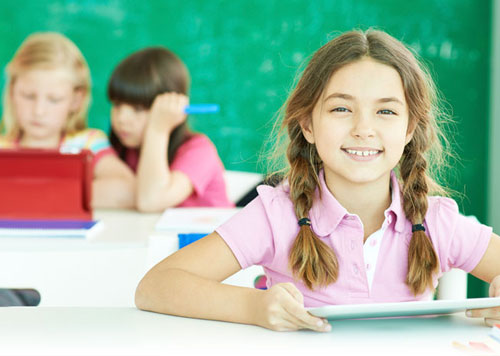 Try these ideas with Wixie
Give these activities a try with your students for free for 90 days.
Get started for free
26. Create a backyard or neighborhood field guide
Ask students to go outside or look out a window and observe a plant or animal that interests them. Use Wixie to draw what they see and record observations using text and voice. Use this information to identify the species. (Go Botany and Cornell have sites that can help)
Once students know the species, have them use Wixie to create a field guide for that species or even several species that live nearby. (template)
27. Draw your own Tree for Arbor Day
Gustav Klimt's "Tree of Life" is one of his most recognizable paintings. Search "Klimt" in Wixie and use the Eraser tool to create your own Klimt-style tree using a scratch art-style template. (template)
Scratch art drawing in Wixie is done with the Eraser tool, not the paint brush!
28. Write your own version of A. A. Milne's "When I was One" poem
Read "The End" a poem by A. A. Milne, who you know from Winnie the Pooh.
When I was One,
I had just begun.
When I was Two,
I was nearly new.
When I was Three
I was hardly me.
When I was Four,
I was not much more.
When I was Five,
I was just alive.
But now I am Six,
I'm as clever as clever,
So I think I'll be six now for ever and ever.
Open Wixie and type "Milne" in the search field. Open the "When I was (age)" template, finish each line, and use Wixie's tools to illustrate. (template)
If you have students of different ages, make a copy and adjust the template to add or remove a line. Then, assign different templates to different students.
29. Craft a concrete poem
Concrete poems are poems where the words are arranged in a shape that reflects the topic of the poem. Write your poem in small phrases or stanzas and use the rotate handle above a text box in Wixie to adjust the direction.
30. Create a coat of arms for a book character
A coat of arms is a symbolic representation of a family's identity and values. Create a coat of arms for a book character for a creative way to showcase your comprehension of their traits. Search "coat of arms" in Wixie to open a template that makes it easy to color, add images, and write a motto. (template)
Explore a Character Coat of Arms lesson plan
31. Create your digital footprint
Have students fill in the digital footprint template with examples of social media posts and headlines they would like others to see when they search for their name in the future. (template)
Wixie includes an entire Digital Citizenship folder of templates you can also use to help foster and support healthy digital habits, like being cyber safe, determining if online news is real or fake, and balancing time online with other activities.
Explore other ideas for supporting digital citizenship with your students.
32. Write a fractured nursery rhyme
Wixie has an entire folder of templates you can use to write a fractured version of your favorite nursery rhyme. Search "fracture" or browse Curriculum>Writing>Poetry>Fracture Nursery Rhymes. Have fun! (template)
33. Create a thank you card for a staff member or teacher
Have students show their appreciation for those that support them at school. Open the Templates at your Wixie home page and open the Stationery folder to find a thank you note starter you can use to type a letter to your teacher. Better yet, start a blank Wixie page and use the paint tools to create an original drawing. You can also use the image button and camera option to capture your picture!
Use the microphone tool to record your voice and let this person know how much you appreciate them.(template)
34. Solve Piñata fractions
Have students celebrate their love and knowledge of fractions by completing a fraction "piñata" challenge in Wixie. They will drag candy into the piñata so that 1/12 is blue, 1/6 is red, 1/3 is green, and 1/4 is orange. (template)
35. Create a book bento
Create a book bento to retell important details about a text or to visually celebrate your favorite title. Search "bento" in Wixie for a fun background, then arrange images about the book and add hyperlinks for an interactive collage. (template)
36. Design an Animal Diary
Have students use personification to write a diary for an animal that teaches others about its unique physical characteristics, behaviors, and adaptations. (template)
Explore an Animal Diary lesson plan
37. Paint your own pop art
Explore the ideas of pop art and mass appeal (think Andy Warhol). Search "pop art" in Wixie for a template you can use to design a pop art montage. Add stickers and use the invert colors option or glue stickers down and use paint bucket to fill with different colors. (template)
Explore a Pop Art Montage lesson plan
38. Create an ABC's of... Book
After researching and learning about a topic such as geography, gravity, energy, or even the unique history and geography of your state, have students use Wixie to create an alphabet book to share knowledge they have learned, organizing their writing using the ABC's. (template)
Have them each complete a book, or assign each student a single page and combine into a class book using Wixie's Import Pages feature.
39. Create an all about me grid
Have students share about themselves (thoughts, dreams, strengths) by completing an All About Me Grid. (template)
40. Write your own word problems
Visualizing word problems in Wixie by using the paint tools to draw models or by adding images from the media library can help students better identify key pieces of a problem and the relations between them. (template)
Get step-by-step directions and more ideas for getting started with word problems in Wixie.
41. Send a chalk art message
Search Wixie for "chalk" to find a template you can use to create a digital chalk art message. Export the image or copy the URL and send to a grandparent or share with an elderly neighbor who would appreciate a smile. (template)
42. Inform others about an endangered plant or animal
Use Wixie to create raise awareness or inform others about an endangered species. Search "trading card" at your Wixie home page for an easy template to help you to organize your writing to inform others about animals or plants in peril. (template)
43. Create comics, cartoons, and even graphic novels
Comics and cartoons are a great way to engage students in the stories they are reading, the information they are researching, and the ideas they are exploring in your curriculum. Use them for narrative writing, retelling, sharing understanding, teaching others, raising awareness, and more. (template)
Explore additional ideas and lesson plans for creating comics
44. Create a Creature
While you can't travel to faraway lands in the hopes of finding a new species, you can use what you know about plant and animal adaptation to create a new species of your own. Combine features from animals you know and use Wixie to introduce your species to the world, sharing its physical adaptations, daily habits (behavioral adaptations), predators, and prey.
Explore a complete lesson plan for this idea on Creative Educator.
45. Partition Shapes
In third grade, students progress beyond partition circles and rectangles into two, three, or four equal shares, to more complex shapes and lines of symmetry, including radial. Search "partition" in Wixie for a range of practice and play activities. (template)
46. Design a Habitat Snow Globe
Most students have or have seen a snow globe at home or at a tourist attraction. Ask students to design a snow globe to showcase the animals and plants in a particular habitat. Search "snow globe" at the Wixie home page for a template. There is also a snow globe glass image in Wixie's sticker's library they can add to their file to add a glassy effect. (template)

Explore a Habitat Snow Globe lesson plan
47. Carve your own rock art
Petroglyphs are objects carved into rock by prehistoric people. Search "petroglyph" at your Wixie home page. Assign to students and they can use the Eraser tool to "carve" their own petroglyph image. Use the microphone tool to tell the story of the rock art. (template)
48. Publish a brochure for your neighborhood
What makes where you live special? Our families choose places to live based on economics, weather, family, geography, and culture. Have your students talk to their parents about why they chose to live where they do. Walk the neighborhood, take pictures, and use Wixie to create a brochure to let others know about the unique neighborhood you call home. Start from a blank page or search "brochure" at your Wixie home page. (template)
49. Tell a data story
Read or watch Five Creatures by Emily Jenkins. This story describes a family with five creatures comparing features between them in many different ways. Have each student collect five creatures data for their home. Search "creatures" in Wixie to find a template students can use to collect data for five creatures in their home. (template)
Have students use this data to write their own five creatures story!
Explore other books that make for great literature adaptations.
50. Create Silhouette Art
A silhouette is a sharp outline or shadow of an object. While students can always draw silhouette outlines, they can also create them using stickers from the Image library.

Start a new blank page. Use the Image button to find and add a sticker to the page. Simple stickers are best. This may also be a great time to talk about horizon line.
Have students select each sticker, go to the Edit menu and choose Glue to Paint layer. Use the paint bucket to fill each sticker with black. Clean up spaces with the paint brush and add ground if necessary. Finally, select the Arrow tool and use the Background Picture button to find a colorful background!
Explore a Spooky Silhouette lesson plan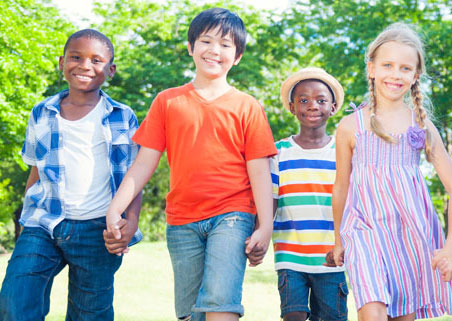 Try these ideas with Wixie
Give these activities a try with your students for free for 90 days.
Get started for free