Robert Marzano, Debra Pickering, and Jane Pollock examined decades of research and distilled the results into nine teaching strategies which have a powerful and significant impact on student learning. Wixie makes it easy and engaging to integrate these strategies with students.
Setting objectives and providing feedback
Goals should not be too specific and should be easily adaptable to student's own objectives; feedback should be relevant, timely, and specific.
Having clear goals helps students see the point of the effort they are making, combined with feedback about that work. This doesn't mean giving them advice, or "value judgments or recommendations on how to improve," but providing relevant, timely, and specific information about how the "effect of their actions… "[relates] to a goal." (Wiggins, 2012)

Teachers can provide feedback as students work using the feedback feature at their Wixie Student dashboard. At the Students page, select a class, student, and project, and use the feedback tab to share your reaction to their effort.
We are rarely dispassionate and accurate about our responses and feelings. Share specific positive examples of how their work was successful for you as a reader or viewer, and ask questions that help them reflect on and clarify how their efforts were effective.
Reinforcing effort and providing recognition
Keeping track of effort and recognizing progress helps students realize the importance of effort and changing their beliefs to emphasize effort over achievement.
It is essential to demonstrate that you hold high expectations for student work. When beginning projects, share examples of similar Wixie projects you have collected in your Showcase folder. Then, as they are working, use the feedback options mentioned above to share praise with students for their efforts, not for achievement.
When students complete their work, display it for the world to see. Student work in Wixie is automatically assigned a URL that can be easily shared with parents through email or the community through social media.*

*By default, viewing student work requires a public key for access and social media sharing is off.
Asking students to do important tasks with real-world application further motivates them to succeed by demonstrating that their effort matters beyond the classroom. If students are writing stories, export their work as a PDF or eBook for other students to read or print in booklet form to add to your classroom's leveled reading library.
If students have created public service announcements, reports, or posters to inform, raise awareness, or change behavior, post them where they will have maximum impact, such as in school hallways, on community boards, or even on local access television. Wixie projects can be embedded on web sites to be shared around the world.
Cooperative learning
Working and learning in heterogeneous groups builds language, academic, and 21st‐century skills.
Having students work together to complete projects prepares students for life in the world outside of the classroom where "most complex communal, social, and workplace problems are solved by groups, not individuals." As each student contributes a page, paragraph, or painting to a collaborative project, they learn to recognize and value the various perspectives and contributions of themselves and others.

In primary grades, you can use Wixie to create class books, where each student contributes a page that you combine together into a single file you can share. For example, create your own adaptation of a pattern story or create and send thank you notes to classroom guests.
Wixie also includes a Team feature teachers and students can use to collaborate in real-time on projects such as informative reports, real-world designs, and plans, fictitious interviews, documentaries, or dramatizations. Student teams can choose to work individually on different sections of content or deploy roles such as writer, editor, illustrator, and so on.
Cues, questions, and advance organizers
Helping students use what they already know to enhance their learning on a topic.
It is extremely important for students to tap into their prior knowledge and experiences as it engages them and helps them make connections to new information. This is especially true for second language learners who need even more opportunities to explore how topics relate to things they might already be familiar with.

Open a KWHL chart from your teacher Wixie account and work as a class to help students activate prior knowledge as well as keep track of things they have learned as you ascertain what your students already know, what they want to learn, how they can or have learned it, and what they have learned.

You can also use this strategy when students are directing their own project work. Have student teams use the KWHL organizer mentioned above or the Think-Puzzle-Explore organizer in Wixie to collect group knowledge, capture questions, and prompt action.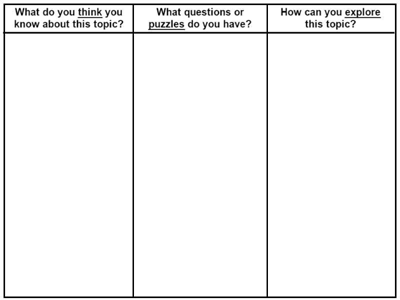 Nonlinguistic representations
Creating nonlinguistic representations of knowledge requires students to organize and elaborate on information.
Marzano and team state, "the more we use both systems of representation – linguistic and non-linguistic – the better we are able to think about and recall knowledge." Students can use Wixie to combine text with images for a variety of projects.
Vocabulary
Students can use the templates and features of Wixie to bring vocabulary, such as antonyms, homonyms, and idioms to life through a combination of media that helps students more deeply understand the meaning of words and remember them for future use.
Infographics and infoposters

Constructing their own models and diagrams requires higher-order thinking skills and helps students organize and better comprehend information. In today's information age, infographics have become a popular way to communicate complex ideas and make large quantities of data understandable. Infoposters can also be statements of priority and action.
Comics

Comics are a natural marriage of these two forms of representation and are great performance tasks for retelling. When creating comics, students must choose words carefully and support meaning with pictures. By combining visual support with necessary text practice, designing comics is a great way to build confidence and develop linguistic proficiencies for both native-language and second-language learners.
Summarizing and note taking
Summarizing involves deleting, substituting, and evaluating information, and requiring students to engage in detailed analysis of the content.
Today's world is filled with information. Being able to identify big ideas and supporting details is essential to both comprehension and a student's ability to effectively use information in their own communication.
Students can use the text options in Wixie to take notes and then both arrange and stylize the objects to show priority and connections. Visual learners can combine text and imaging options to create Sketchnotes as they read and listen to texts. Students can use a range of graphic organizers in Wixie to help them better comprehend and summarize information through Venn Diagrams, main idea umbrellas, and flowcharts.
While the visual (or nonlinguistic) nature of comics is obvious, the limited amount of text available to comic authors is also a powerful and fun way to get them to summarize ideas and information. The limited amount of space in a comic's panels requires students to choose the most significant points in a text or story.
Assigning homework and providing practice
Homework and practice provide students with an opportunity to extend and reinforce their learning beyond the classroom, and should be adjusted for grade level and goals clearly articulated to parents.
Wixie's Templates library includes thousands of standards-focused activities you can use for formative assessment and practice. In a primary classroom, these might be drag-and-drop activities that evaluate understanding of the number of syllables, base ten, or value of money. In an elementary classroom, these might be activities on fractions or contractions or symmetry that help you evaluate prior knowledge.

Teachers can create assignments in Wixie that appear automatically at the top of each student's Wixie home page.
Wixie works online, and students can log in to Wixie wherever and whenever they have Internet access. Teachers can customize Wixie templates to meet the needs of different learners and easily send different assignments to each student.



Students using the Standard interface can also open templates in Wixie's Curriculum or Template library or even templates created by educators at your site or district. Empowering students to find templates like thinking routines or graphic organizers, when they need them, helps them take responsibility for their own learning.

There is no need for students to turn in assignments, teachers simply view the assignment details to see the work done by each learner, evaluate their progress, and provide feedback.
Identifying similarities and differences
Representing similarities and differences in graphic or symbolic form enhances students' understanding of and ability to use knowledge.
Wixie includes a range of graphic organizing templates like Venn diagrams and T-charts, as well as images and paint options students can use to create their own organizers from scratch.
Begin by assigning specific organizer templates, such as Compare Characters, along with a specific task. You can also assign templates that help students further classify objects and ideas by pros and cons, facts and opinions, and even causes and effects.
As students grow in their analytical skills, empower them to use organizers on their own. Students can open graphic organizer templates by browsing the Templates library at their Wixie home page or doing a keyword search.
As they get more sophisticated with their use of graphic organizers to compare and sort information and visualize their thinking, encourage students to open a blank Wixie page and create their own graphic organizers, using a combination of text objects, images, painted connections, and images. Students can find a set of symbols by selecting the Image button on the toolbar and then navigating to the Mind Maps folder at the Stickers tab.
You can also ask students to identify similarities and differences by crafting an If… But report. This type of project includes a sentence or paragraph that begins with "If I were" or "If I visited" to describe their one topic and follows with "But I would not" to describe the second topic. (Explore more If... But examples).
Generating and testing hypotheses
Guiding students through generating and testing hypotheses and asking them to clearly explain their hypothesis and conclusions.
To help students build curiosity and thinking, open any new topic by assigning a Think-puzzle-explore, I See… I Wonder, or KWHL organizer. You can find all of these with a search at the Wixie teacher or student home page. Not only do these help you evaluate interest and thinking, they help kick-start student inquiry and help them identify a line of inquiry they would like to follow.
Wixie also includes folders filled with templates to support student inquiry and a design process. Browse the Templates library at the Wixie home page and open the STEM-PBL folder to find templates to support students taking the lead on finding problems, exploring new ideas, crafting questions and hypotheses, and designing solutions.
Students can also use a combination of pictures, text, voice narration, and video to explain their thinking and ideas and record their observations, questions, and analysis.
Conclusion
A digital canvas like Wixie, with built-in templates to support student thinking, makes it easy to implement these nine proven instructional strategies. The best part about using a creative approach to improving student learning? It's fun for both you and your students.