A bell ringer is a task students can begin working on as soon as they get seated in the classroom. Bell ringers help students settle in and focus on a new task, while also allowing their teachers time to take care of any administrative or individualized learning check-ins with students. From individual word play to fostering whole group discussion, you can use Wixie to help students warm up for learning.
Whole-class interactive activities
As you get started with bell ringers, it is helpful to model the process with the entire class. If you have an interactive board, you may want to kick off your first few bell ringers by opening a Wixie file that students interact with physically.
For example, if you are introducing poetry, you can share a "blackout" or "magnet" poetry file for the entire class to complete. If you are beginning to explore graphs, you can use a "tally" mark survey or "graph" to collect data. For example:
Dog or cat? (better pet)
Ben Franklin v Thomas Jefferson (historical impact)
Atlantic or Gulf Coast (best geography)
AFL or NFL (data)
Select the links above to view the Wixie file, and then use the Log In button in the upper right side of the page, go to the File menu, and select Copy to My Projects to add the file to your personal Wixie account.
Take attendance with a survey by asking students to drag their name to show their opinion instead of a tally mark. You could also create a Wixie file with a range of emojis to represent "emotions" and ask students to drag their name to show how they are feeling while taking attendance at the same time.

My son's preschool teacher used a bell ringer for attendance with students who were only 3-years old. The students started the year off by dragging their first initial to show they were in class, then progressed to dragging their name, dragging their name in all caps, dragging their name shown vertically/backwards, and even as different trees to represent letter shapes!
Tasks to focus learners
If you know you need to check in with individual students, it may be better to task students with individual work so they aren't distracted with whole-class conversations. Simply find or create the Wixie activity you want to use and assign it to students.
To engage students' brains, assign a "Sudoku" puzzle or have them search the templates for "bell ringer" on their own. You can focus their mental energy while building math skills with computation puzzles like "four fours." Other templates, like "creativity circles" or "composite" shapes, help students build creative thinking.
The Wixie curriculum library has an entire folder of Word Play templates with key academic vocabulary ranging from second to fifth grade. These multi-page activities ask students to "make words" by creating three-, four-, and five-letter words from the letters in the academic vocabulary term. For example, from the word characteristic, students might create three-letter words like cat, hat, car, rat.
This type of activity is great for students who finish assigned work early. Students can type the keyword "done" in the field at the top of their Wixie home page to find additional activities like the ones mentioned above.
Ideas to engage with content
Bell ringers can be great for exploring new topics, allowing students a little extra time to work on projects they have started, and as formative assessments. You can always create what you need in Wixie, or use the bar at your Wixie home page to search the curriculum library using keywords for topics like:
Bell-ringer writing prompts
If your goal is to get your students to write every day, you can't beat a bell-ringer writing prompt. The Language Arts>Writing folder in Wixie's Templates library includes several four-page "Story Starters" you can use to inspire narrative writing. The Background Picture option also makes it easy to create and assign your own custom writing prompts.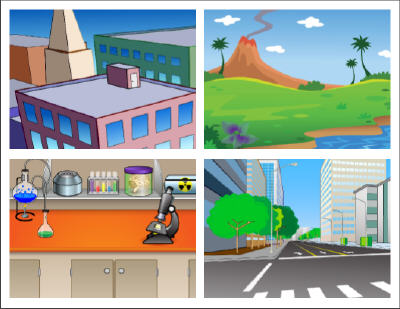 A thought-provoking image, album cover with a hyperlink to a current song, or powerful "quote" are authentic ways to engage intermediate and middle-grade learners.
As students get used to bell ringers, they will come to not only expect them, but depend upon them for settling in and getting the class or day started on a focused and positive note.
Note: Any word in quotation marks (and the bulleted list in italics) above can be used for a keyword search at your Wixie home page to find a pre-existing file in Wixie's curriculum library!