If you love Jan Brett's The Mitten as much as we do, here are some fun Wixie ideas for primary learners that connect to this wonderful winter story.
Students can use Wixie's tools to combine text, images and voice narration to create their own response to the story. Teachers can also use pre-made activities in the Wixie curriculum library that connect to the story or have a winter theme.
Retell the story
In Kindergarten and grade 1, the Common Core Standards for Reading: Literature include retelling and identifying major events (K.2, K.3, 1.2, 1.3) and in grade 2, they expand to include describing the structure of a story (2.5).
After reading The Mitten to your class, ask students to retell the story in Wixie. For example:
In Kindergarten, you might simply have students open a blank page, paint a picture, and record narration to describe what happened in the story.


In first grade, you could use a Character, Setting, and Events organizer and ask for text and image-based answers.


In second grade, you could use the pre-made The Mitten Sequence template from

Wixie's Activities

to have the students recall the order in which animals entered the mitten.
You can find clip art for The Mitten and other common picture books in the Books folder in Wixie's image dialog. This makes it easy to create your own activities that connect to content in the story.
Complete winter-themed activities
Wixie's curriculum library also includes several pre-made templates that have a winter theme or connect directly to Jan Brett's The Mitten.
To use these templates, log in to your Wixie teacher or student account, open the Templates folder, and browse the December folder in Month-by-Month. You can also find connected activities by typing words like mitten, winter, and snow into the search field.
Create an adaptation of the story
To help your students think about the theme and ideas in The Mitten, have your class create an adaptation of the story (lesson plan). In primary grades, this may be more of a simple retelling or replacement of one animal with another. You can support your emerging writers with a sentence starter, like:
"A _______ (animal) crawled into the mitten to get warm."

or

"A _______ (animal) _______ (action verb) into the mitten to get warm."
In elementary grades, you can even challenge students to change the context. For example, students in Melissa Aspinwall's classroom in Georgia read Jan Brett's story and wrote their own story entitled The Adventurer's Hat to share information about the animals found in Georgia's woodland habitat.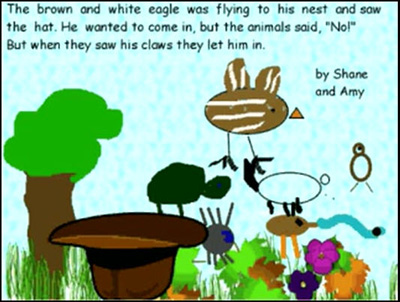 No matter what you choose, you can use Jan Brett's The Mitten as a jumping off point for students to create work that demonstrates their knowledge and understanding as well as expresses ideas they have as a result of reading this fantastic book.