Inspired by Google's 20% time, many educators are implementing a Genius Hour in their classrooms. While play and exploration are driving factors, the most powerful passion projects ask students to make or create something to give their work purpose. Passion projects provide an opportunity for students to practice inquiry, research, presentations in the context of a topic they have chosen, and for teachers to step back and support learners as they choose what and how they want to learn.
Wixie is the perfect tool for passion projects, providing a platform for students to combine text, images, voice narration, and video to share their ideas and learning. Teachers can use the templates and organizers in Wixie to coach and support students through the passion project process and provide feedback as they are working through Wixie's comment options.
Use Wixie as a digital canvas for students to share their passion
Passion projects should result in students making something! Wixie is easy-to-use so students can focus on passion itself, not the tool they are using to share and showcase it.
Wixie also supports a self-directed process where students decide both what they will pursue and how they will share their results, maintaining intrinsic motivation and fostering student-directed learning. Students can start from a blank screen in Wixie and create a passion project "product" such as:
Artwork for self-expression
comics to entertain
slideshows or infoposters to inspire
how-to instructions that teach (video, animation, printed manual)
articles or newsletters to inform
public service announcements to change behavior
If student passion project work results in a performance, sculpture, or physical model, they can use Wixie to capture images and record narration or even video so others can be inspired and learn from their efforts without being in the same physical location.
Asking students to share their work publicly adds another powerful element to passion project time. Oral presentations or videos provide students with additional opportunities for organizing ideas, sharing ideas verbally, and building digital-age communication skills.
Use Wixie to support student work during the passion project process
While it may seem counter-productive to let students work on their passions during classroom time, this provides them with the support of an expert learner (you) as they inquire, research, communicate, and learn.

The templates and organizers in Wixie can provide structure and help you coach individual students through the process. These artifacts of learning can help:
students identify where they are now in relation to the goals they have for their passion project work.
teachers determine how to best support student work during the process and provide meaningful feedback and suggestions.
For example, many students will immediately know what they want to do, but others may struggle choosing how to spend their time. Have these students complete the Wixie Cluster template, which includes eight boxes to fill with potential ideas.
If students are still struggling, partner them with a friend who already has an idea to talk about interests together or take a moment to project student clusters to the entire class and discuss ideas other students have. This not only provides ideas for students who haven't chosen yet, it helps other students expand their ideas and forge new connections.

Once students have chosen a topic to explore, you can support and encourage student inquiry with Wixie's Think-Puzzle-Explore template.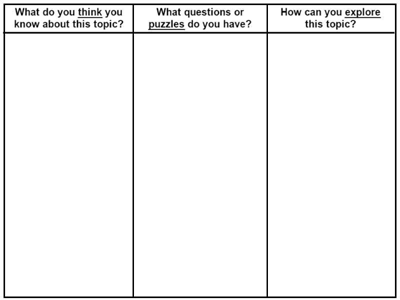 The purpose of this organizer from Harvard's Project Zero is "to help students connect to prior knowledge, to stimulate curiosity and to lay the groundwork for independent inquiry." It also provides you with valuable information about each student's prior knowledge, interest, and capacity for inquiry, which is essential with every student exploring a different topic in a different way!
If students have completed research, but aren't sure what to do with their findings, assign the Plus-Minus-Interesting (PMI) template to help with the decision-making process. In this organizer from Edward de Bono, students analyze pros, cons, and lateral ideas.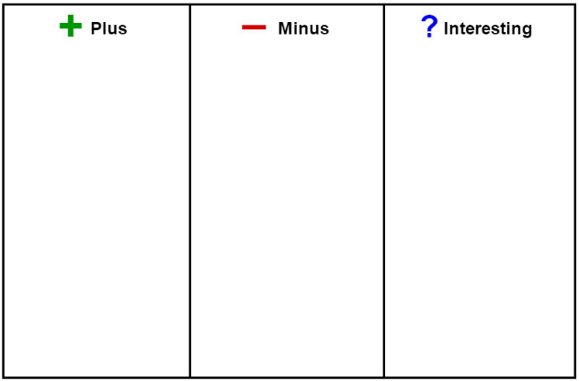 Even if students know what they want to create, this organizer can help them better organize their ideas and make their communication of those ideas more effective.
Other templates in Wixie's Graphic Organizers folder are great ways to support student research, thinking, and planning. Listen to students as they are working, and assign templates based on need. These provide artifacts of learning you can use to push students to deeper levels of thinking and creativity during their project work.
Your feedback on their work is also essential. Use the Feedback feature in Wixie to provide ideas, suggestions, and feedback on student work in Wixie. If you can't reach everyone during passion project time, log in to your teacher account at a later time to view student work and provide your comments. Students will see this feedback when they log in and can take action on their own, further facilitating student-directed learning.
Powerful learning awaits
Passion projects are student driven and your room will likely be filled energy as students with different goals create very different things and learn in their own unique ways. Wixie provides options for your students to share their passions and for you to manage a complex process that can transform your classroom into a powerful and active learning environment.
How will your students explore their passions and change our world?